Individual development
To care about our employees' career opportunities and personal development is a matter of importance for us. Discover more about our development options.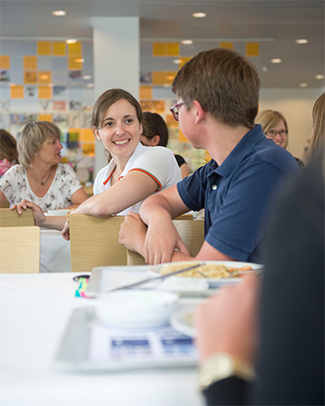 Fringe Benefits
We offer our employees numerous fringe benefits. These range from financial benefits to a more generous annual leave period than that required by law as well as special leave on special occasions. We also provide anniversary bonuses as well as grants to mark particular personal landmarks, such as weddings or the birth of a child.
Work-Life-Integration
We consider it important that our employees achieve a good work/life balance, since protecting people is our mission. Many of our employees benefit from flexible working hours. We offer over 150 different working models involving full and part-time working as well as the option of working from home.
With various family-friendly and health-oriented services and measures, we can ensure that work at uvex reflects our mission statement, Business is people. Discover more here:
Family policy
Family-friendliness is part of our corporate culture, because only when your family is well looked after, you can concentrate completely and utterly on your job. We have many options for supporting you in structuring your working hours and also ensure that our employees' children are looked after during school holidays. Examples of our services:
Advice on maternity and parental leave
Intranet information about our family policy
School holiday childcare in cooperation with the Fürth Families Association at the Fürth site
Nursery places
Part-time working
One day's paid leave for the father on the birth of a child
Payment of a voluntary maternity benefit
Taster work placements for employees' children
Participation in the Girls' and Boys' Day
Courses for parents (eg. first aid courses for baby- and toddler emergencies)
Birth presents
Health management
The "business is people" philosophy is extremely important at uvex. This is why our employees' health is paramount. It defines the personal wellbeing of each individual and is consequently the most important precondition for mastering the challenges of day-to-day professional life and for maintaining and boosting your effectiveness.
Health management at uvex comprises a broad range of measures and is consequently a key pillar of strategic human resources management. Seven components, which are closely interlinked, form and underpin our approach to health.