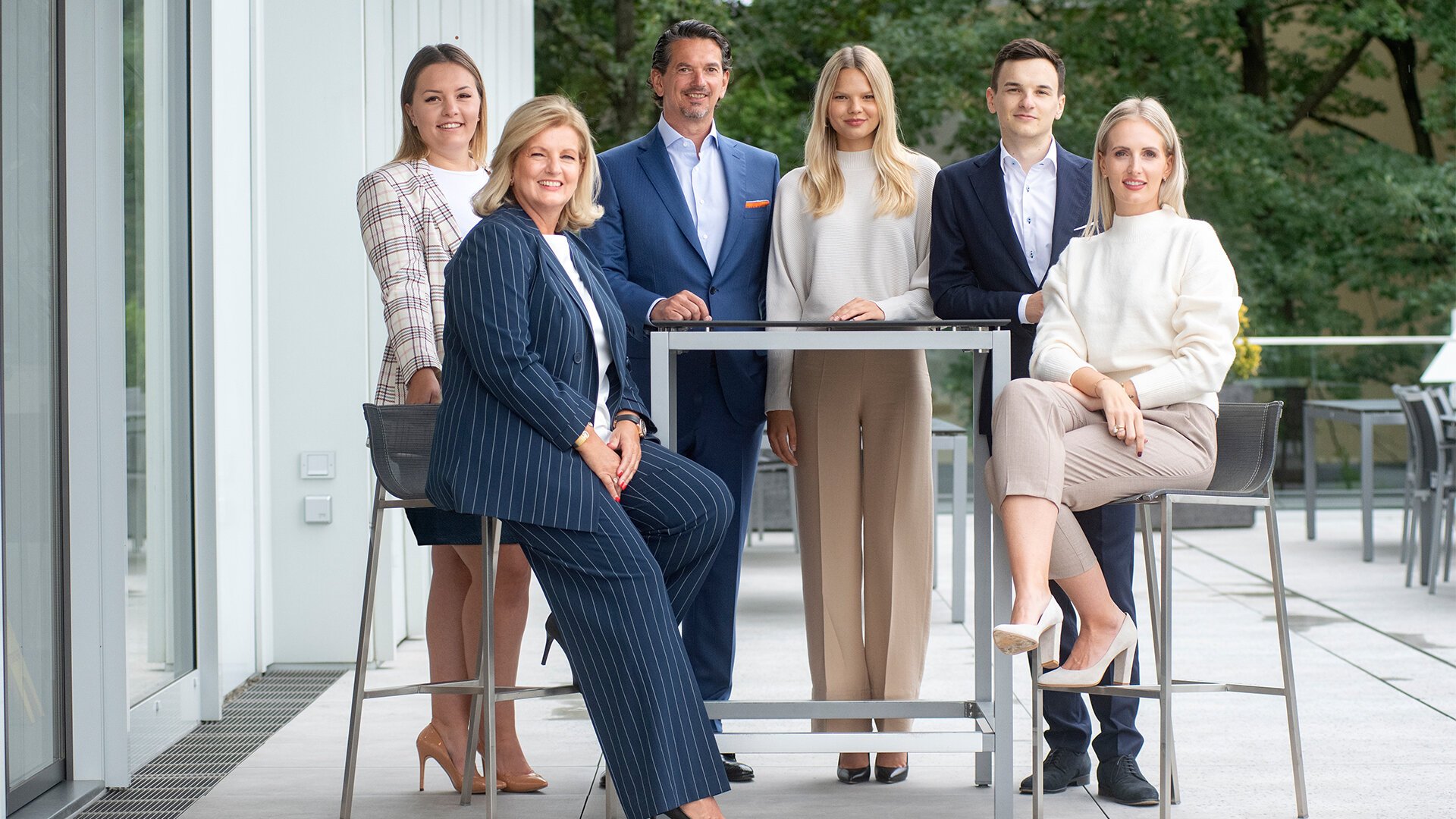 The uvex group is a medium-sized family business.
Michael Winter (3rd from left) is the managing partner responsible for the group's operative business. Together with his sister Gabriele Grau (2nd from left) he forms the third generation of the family business.
Father Rainer Winter has retired from the active business. The senior boss and second-generation owner of the company invented the brand name uvex, consisting of UltraViolett EXcluded, the name for the UV protection of glasses.
With the integration of the fourth generation, Leo and Lisa Winter (2nd and 3rd from right) and Alexa and Kira Grau (1st from left and right), the shareholders of the uvex group are already setting the course for a long-term company succession.
With the Rainer Winter Foundation, the entrepreneurial family also assumes social responsibility. Foundation founder Rainer Winter and his daughter Gabriele Grau, Chairman of the Foundation, dedicate themselves to the task of helping needy, sick and disabled children all over the world quickly and unbureaucratically.
The uvex group has its headquarters in Fürth, northern Bavaria, where the majority of its employees are based. The company was founded in 1926 by Philipp M. Winter, who manufactured protective eyewear in his "Optische-Industrie-Anstalt". With 2959 employees and 49 subsidiaries in 22 countries, the uvex group achieved sales of 524 million euros in fiscal year 2020/21.
Development and production are concentrated in Germany and Europe. From the initial idea through research and development to production using state-of-the-art production processes, the entire value chain is in the hands of uvex. In this way, we protect our know-how sustainably and realize our ambitious vision: We want to be the best in our industry! All uvex products are characterized by technological innovation, high wearing comfort and unmistakable design. This applies - for example - to ski helmets, cycling goggles, hearing and respiratory protection, safety shoes and sunglasses from Filtral.
The constant transfer of know-how between top-class sport and occupational safety inspires our inventive talent and innovative ability.
Nine strong brands benefit from the manufacturing expertise of the three companies uvex safety group, uvex sports group and Filtral group: uvex safety, laservision, Heckel and HexArmor in occupational safety, uvex sports, ALPINA and Hiplok for sports, as well as Filtral and Primetta for eyewear.