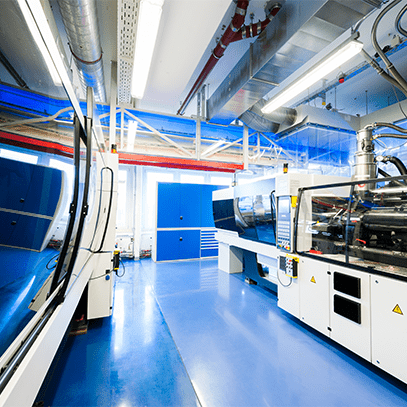 Werk Fürth
Installation of new energy-optimised flood cells
In the previous financial year, three new flood cells with new and efficient climate control technology and energy-efficient servo-hydraulic injection moulding machines were installed. With an optimal utilisation rate of the new machines, up to 390,000 kWh of electrical energy can be saved annually in comparison with machines that function on the basis of what is now outdated technology. The climate control technology of the new flood cells is also suitable for free coolers and can be operated in a much more energy-efficient manner after new free-cooling systems were put into operation. Substituting an old hydraulic injection moulding machine with a new one that functions on the basis of an all-electric drive saves over 71,000 kWh of electrical energy each year and also facilitates significantly shorter injection moulding cycles. Replacing four temperature control units saves around an additional 77,000 kWh of electrical energy per year. In total, more than 700,000 kWh was saved in financial year 2020/21 overall on the back of the measures, among others, which equates to an equivalent annual consumption of more than 175 four-person households. In other words, this has led to a reduction in CO2 emissions of more than 256 tonnes.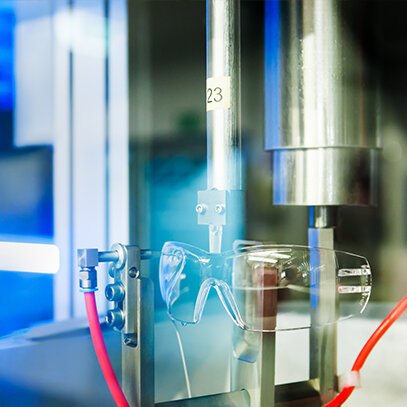 Optimised coating system put into operation
To ensure that safety goggles function optimally, it is absolutely essential to apply special coatings to the lenses. A special coating is applied to the inside, which prevents the lenses from tarnishing, while a scratch-resistant coating is additionally applied to the outside. These innovative coatings are developed and manufactured at our Fürth plant. By optimizing the various coating systems, the uvex group has been able to replace some environmentally harmful substances with non-toxic substances in addition to cutting the use of solvents by up to 40%. By integrating new viscosity sensor technology in the flood cells, it has been possible to achieve more even layer thicknesses in addition to reducing both the supervision expenses for service staff and the reject rates. In addition, around 2.3 kg of solvent per 10,000 coated lenses can be saved by implementing further optimizations in the flood cells. Over the course of the reporting year, a distillation system was also purchased through the cooperation of the application development and coating production teams. This removes the residues from the solvents required to clean the machines and in so doing purifies them so that they can be reused. Through these measures, around three tonnes of solvent can be saved each year.