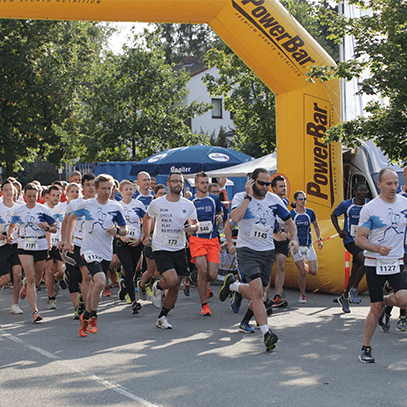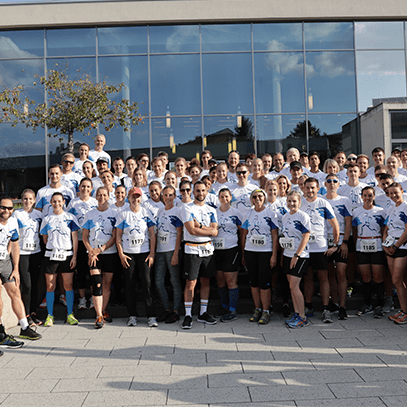 GRI 102-11, 102-16, 103-1, 103-2, 103-3, 401-2, 403-6, 404-2

Company health management
Health management at the uvex group covers a wide selection of programmes aimed at promoting health. The uvex group's health steering committee is establishing a systematic health management structure to ensure that the workplace and organisation are geared towards sustainably promoting the health of employees.
Programs across all locations / Workplace Health Promotion

Sport & Fitness: Exercise videos for balance // exclusive fitness studio offer
Stress management: Five tips
Health programmes/events: uvex sports day (e.g. spring flower hike, hockey, rope climbing, 3D archery, kayaking, horse riding, parkour, body and soul, clay pigeon shooting, etc.)
Health tips
Programmes at the Fürth location
Workplace Health Promotion

Sport & fitness: Fascia training and mobility workout // EMS training // Kettlebell workout // Fürth office run // Office sports groups (running group, volleyball team, mountain biking)
Stress management: Massage for office workers // After-work yoga
Nutrition: Treat box // Seasonal campaigns // Smoothie bike // Drink yourself fit
Health programmes/events: DKMS action
Social services
Workplace healthcare: Skin screening // Bowel cancer presentation
Family policy: Day of Repentance and Prayer // Childcare during Easter/summer holidays
This year was the 10th anniversary of the Fürth Office Run - the uvex group was also involved, with a team of 75 employees taking part.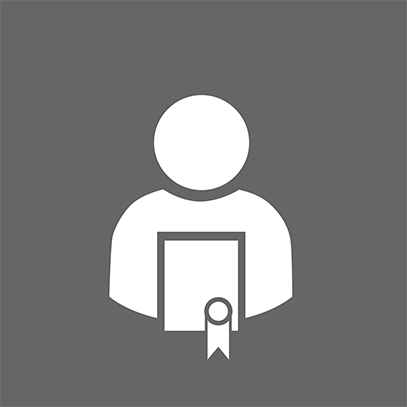 New trainee positions
Whether an internship, combined study programme or a traditional apprenticeship: at uvex, entering the world of work is a varied, exciting and highly informative experience. A total of 18 different vocational training programmes offer the opportunity to experience various departments and participate in many different projects and events.
Vocational training programmes that were new last year include:
E-commerce sales
Chemical production specialist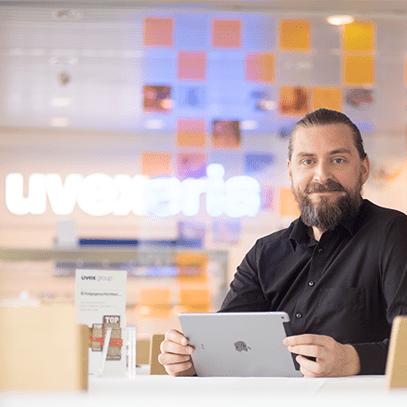 eLearning
The uvex group has developed an e-learning system, meaning that the company now offers the opportunity to complete further training courses online. This enables all employees to gain new knowledge and skills, and to prepare for current and future work demands anytime, anywhere in the world. Depending on the topic area, the learning content is offered either as a purely e-learning course or as a combination of e-learning and in-person teaching as part of a blended learning approach. Purely online courses (web-based training sessions, webinars) enable people to save travel time and costs. In the blended learning formats, course participants come to the in-person sessions already well prepared. This allows more time to be dedicated to cooperative exchanges and discussions in addition to interactive training methods. Furthermore, e-learning courses are now available on demand, meaning that the content can be accessed when required. Course content and system interfaces are being expanded consistently in order to provide all employees with access to sustainable further training experiences.
Collaboration experts
Originally introduced in the 2016/17 financial year, the uvex group further developed the success model for digital collaboration last year. The collaboration experts set up the interfaces between IT and user within the uvex group in connection with the introduction and use of new digital working methods and tools. The feedback they receive enables them to act as valuable generators of ideas for designing future-proof and user-friendly digital communication platforms within the family business. The community currently has 84 members altogether. Of these, 26 are newly qualified in financial year 2018/2019 and 8 from the current financial year 2019/20. The collaboration experts are represented at all German-speaking uvex locations: ALPINA Schweiz, uvex sports Austria, uvex Arbeitsschutz Schweiz, uvex safety gloves in Lüneburg, uvex safety textiles in Ellefeld, uvex sports Lederdorn, BSA in Obernzell, ALPINA in Sulzemoos und uvex sports CR in Nyrsko, Czech Republic. Since the previous financial year, the work undertaken by the 84 collaboration experts has been organised within teams from work-related areas. Specifically-formulated objectives and regular online and in-person workshops help the team members to achieve their targets and foster greater transparency in collaboration. In so doing, sustainable, efficient, cross-border communication pathways and exchange of knowledge within the uvex group is guaranteed.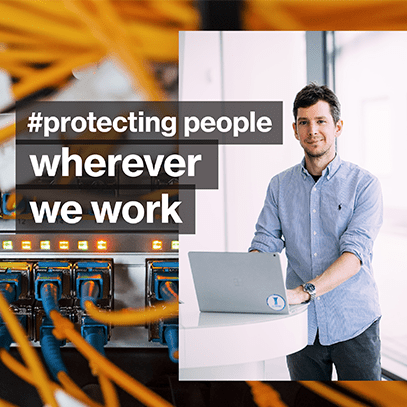 Employer brand
The employer brand includes the uvex group's performance promise for current and future employees. It is characterised by the uvex group's values, showing employees and potential applicants what uvex stands for as an employer and what makes the company unique. In financial year 2018/2019, a focus was placed on the revitalisation and modernisation of the uvex group, for example by integrating a cultural fit check on our career page, creating networks to strengthen cross-departmental collaboration and exchanges in addition to launching a project aimed at improving our personnel development process. The aim of these activities as part of employer brand marketing processes is to position the uvex group as a modern and attractive employer, and to further raise recognition of the family business.
Digitalization of HR
Over the last few years, the HR department has been working tirelessly to deal with the opportunities presented by the digital transformation. In the last financial year, many projects were successfully implemented:
Employee portal
The employee portal contains functions such as the option to apply for annual leave, create time sheets and make clock-in/clock-out corrections. It acts as an "employee self-service" function, meaning that all employees are personally responsible for booking their holidays, making time sheet corrections and registering changes to personal data. The launch of the employee portal has brought about lots of advantages for the payroll department. It has not only accelerated and simplified HR administration processes but also lightened the administrative burden for the entire HR department. The new system saves paper equivalent to that used in around 120 ring binders.
Digital remuneration statements
All uvex group employees in Germany no longer receive printed copies of their payslips, annual tax certificates and pension insurance certificate (DEUEV notifications). Instead, these are provided digitally. Remuneration statements also no longer have to be sorted and placed into envelopes by hand. This not only saves time and money, but is also sustainable.