Rainer Winter Stiftung
The Rainer Winter Stiftung made charitable contributions totalling 160,000 euros in 2017. Since its formation in 1980, the foundation has donated 2.9 million euros, focusing its activities in the Nuremberg-Fürth region (as at end of 2017). GRI 413-1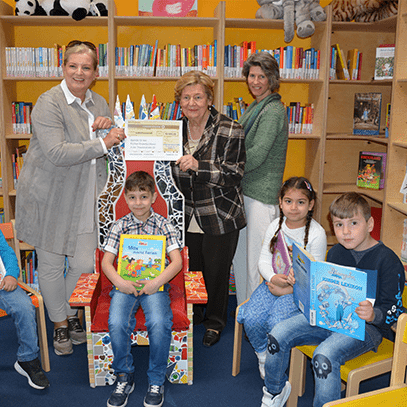 Children's library at the volunteer centre in Fürth
The eyes of 22 Year 1 children sparkle in delight as they attend a reading promotion hour run by the children's library in Fürth, made possible by the Rainer Winter Stiftung. Fifteen classes (each with 20 to 25 children) from the Rosenschule primary school in Fürth take it in turns to attend the reading promotion sessions offered by the children's library at Theaterstraße 22 in Fürth.
The content of the hour, which replaces an hour of teaching, is discussed with the teacher in each case. For example, the children may be asked to report on a book they have read or give a short presentation.
The Rainer Winter Stiftung donated 10,000 euros to the volunteer centre in Fürth, which through this project is helping countless children to discover reading during the week and allows them to borrow books from Monday to Thursday afternoon.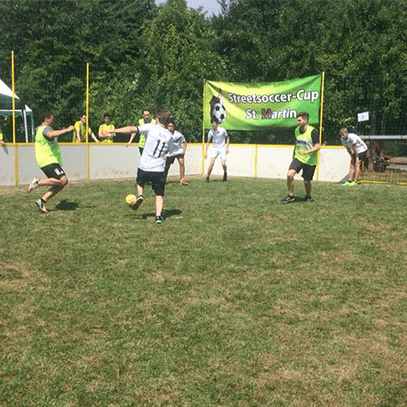 "A one-two between diversity and community": uvex employees support the Streetsoccer Cup 2018 with proceeds from its World Cup prediction game
The Rainer Winter Stiftung presented the St. Martin youth team in Fürth with 1,250 euros for this year's Streetsoccer Cup. This was the sixth time the St. Martin youth panel had held the Streetsoccer Cup, run by young people for young people. For many years, the football tournament has stood for integration, tolerance and equality. Its collaboration with House Welcome, a shelter for unaccompanied minor refugees is a particularly important aspect. The aim is to send out a clear signal against racism and marginalisation.
The motto of this year's sporting event, which took place on 14 July 2018, was: "A one-two between diversity and community". All young people are welcome to take part, irrespective of their origin, culture, gender, appearance or language. As integrative events like this are only made possible by a large number of volunteers, but the costs of around 4,000 euros cannot be borne by the youth team, the Rainer Winter Stiftung has supported this sporting integration event for the last four years. In the 2017/18 financial year, it just so happened that the uvex group was holding a prediction game for the football World Cup – with 254 uvex employees taking part – and so it was able to support the Streetsoccer Cup with an impressive sum of 1,250 euros.