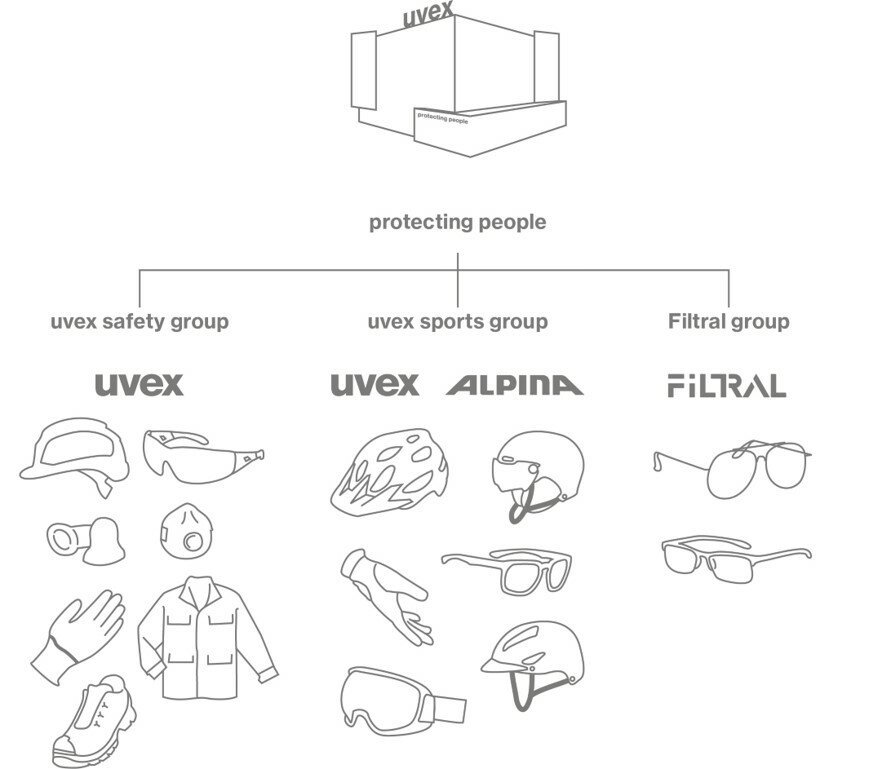 The uvex safety group is positioned as an innovative brand systems provider with international manufacturing expertise. With seven strategic business units (SBU), uvex is one of the few companies in the industrial health and safety sector to offer a complete head-to-toe range of products. Industries that are among the regular customers of the safety division include automotive/automotive suppliers, chemicals and pharmaceuticals, mining, construction and trade as well as oil and gas. Industry-specific product solutions and systems are at the heart of uvex activities:
SBU Head: safety helmets – hearing protection – breathing protection
SBU Eyewear: safety eyewear
SBU Occupational Health: prescription safety spectacles – individual hearing protection – orthopaedic safety footwear
SBU Gloves: safety gloves
SBU Footwear: safety footwear
SBU Workwear: work wear and protective clothing – corporate fashion
SBU Laser protection: laser safety eyewear and curtains and windows


uvex sports group
As a partner for specialist retailers in the fields of sport and leisure, uvex offers innovative, high-quality collections and comprehensive services, as well as increasingly concentrating on digital system solutions to increase sales and turnover. With uvex sports and ALPINA, the uvex sports group's activities focus on three areas of business:
Winter sports: ski goggles – ski helmets – sports eyewear – protectors
Cycling: cycling helmets – cycling eyewear
Equestrian: riding helmets – sports eyewear – riding gloves
As a partner for international top-level sport, uvex equips many professional athletes worldwide. uvex sports operates throughout the world and plays a decisive role in shaping the uvex brand. The uvex sports group strives to manufacture its products in Germany where possible, otherwise working with proficient partners. Every uvex product is engineered in Germany.

Filtral group
As a distribution partner of the European self-service retail trade, Filtral group concentrates on two areas of business: sunglasses and reading aids. Their quality is checked in certified laboratories and directly at uvex's testing center. Innovation leadership in logistics and merchandise presentation combined with procurement expertise, POS service and the EDI connection give retailers a framework within which they can achieve above-average productivity from their retail space and efficient processes. As one of the leading eyewear providers in Germany, Filtral is also developing the rest of the European Economic Area with the aim of leading the market as one of the three largest providers in this category.