420 employees - 19 sports - 1 event
Every two years the uvex sportsday takes place at the Hubert Schwarz Zentrum in Ungerthal, in the district of Roth. Already for the 8th time there was cycling, climbing or water sports.
Just get out of the comfort zone, test a sport that you might otherwise never try. Get to know new colleagues or colleagues from other locations and celebrate together. That's what it's all about!
At 6 o'clock the alarm clock rang. Setting up, decorating, finishing off the last organisations at the dream location in the Ungerthal was the motto for the Orga-team.
Video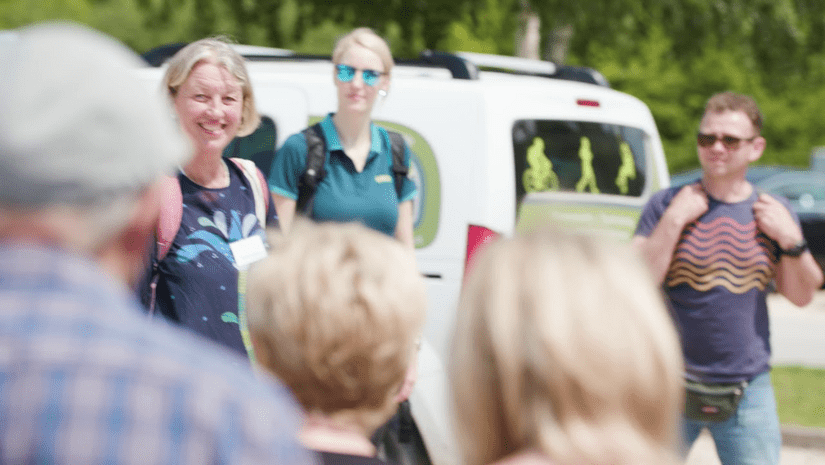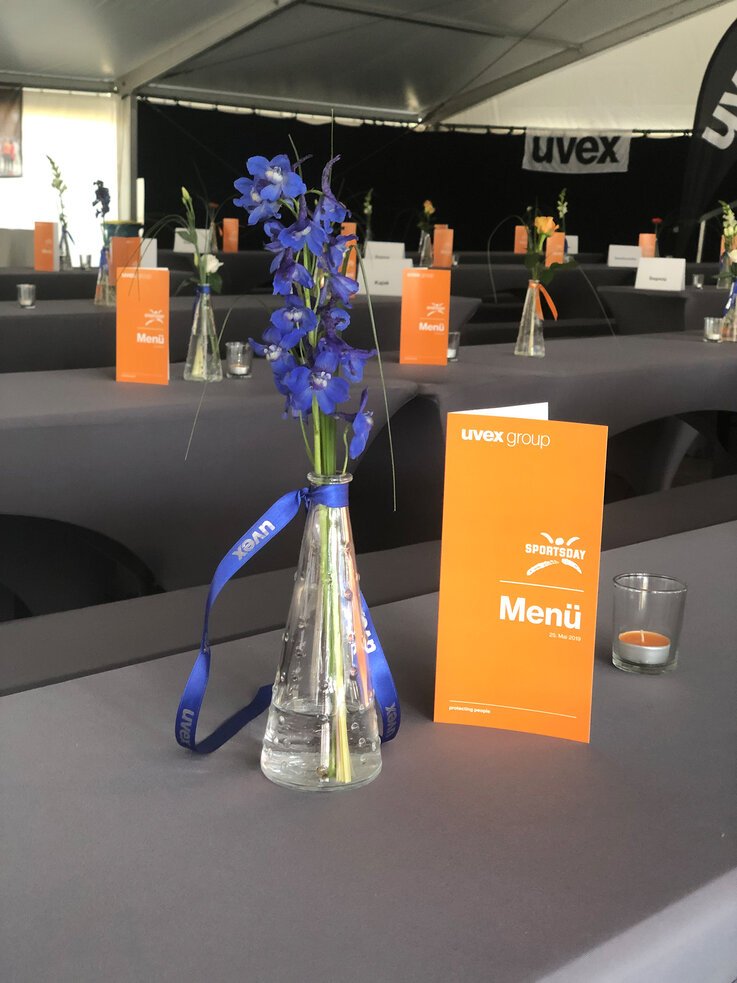 Mountainbike
The mountain bikers started in two groups - beginners and advanced - and made their way through the Franconian countryside. Of course there was a small break for refreshment at the Landgasthof Kraft.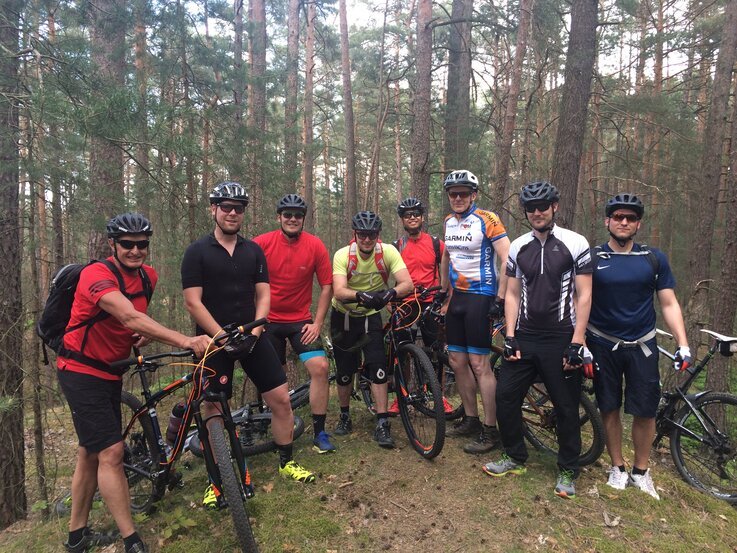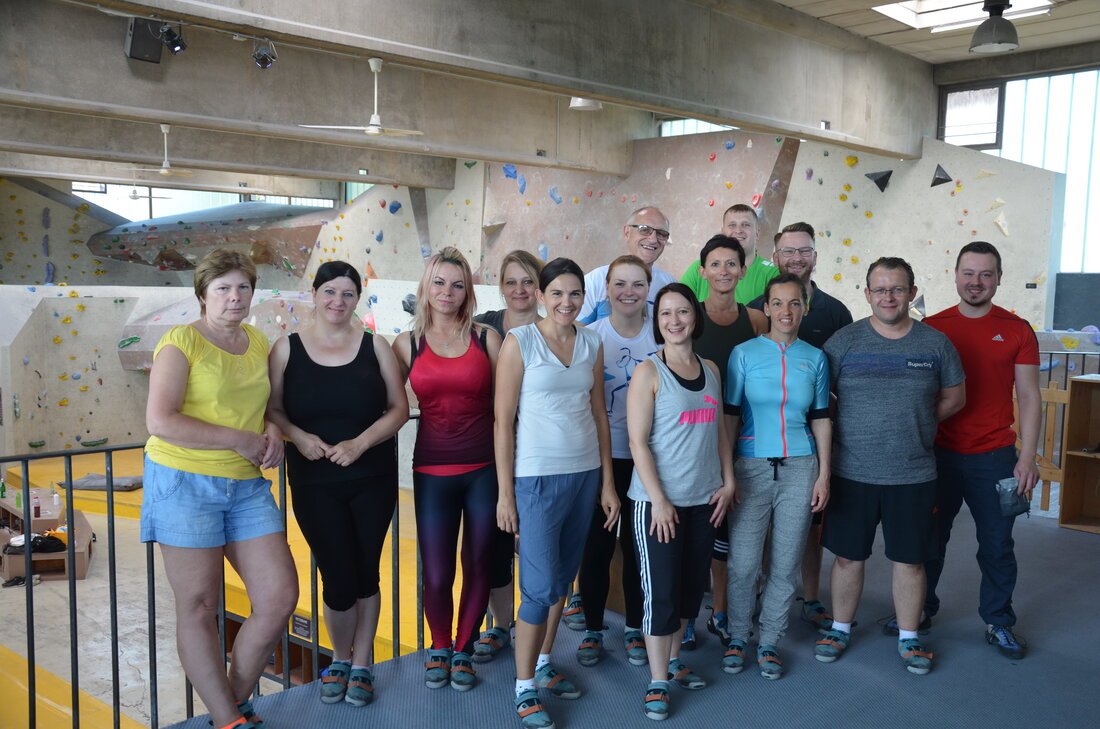 Bouldern
Climbing without a climbing rope or harness in rock walls or halls is becoming more and more popular.
The Boulder-Hangar Steinbock offers every level of difficulty, indoor and outdoor.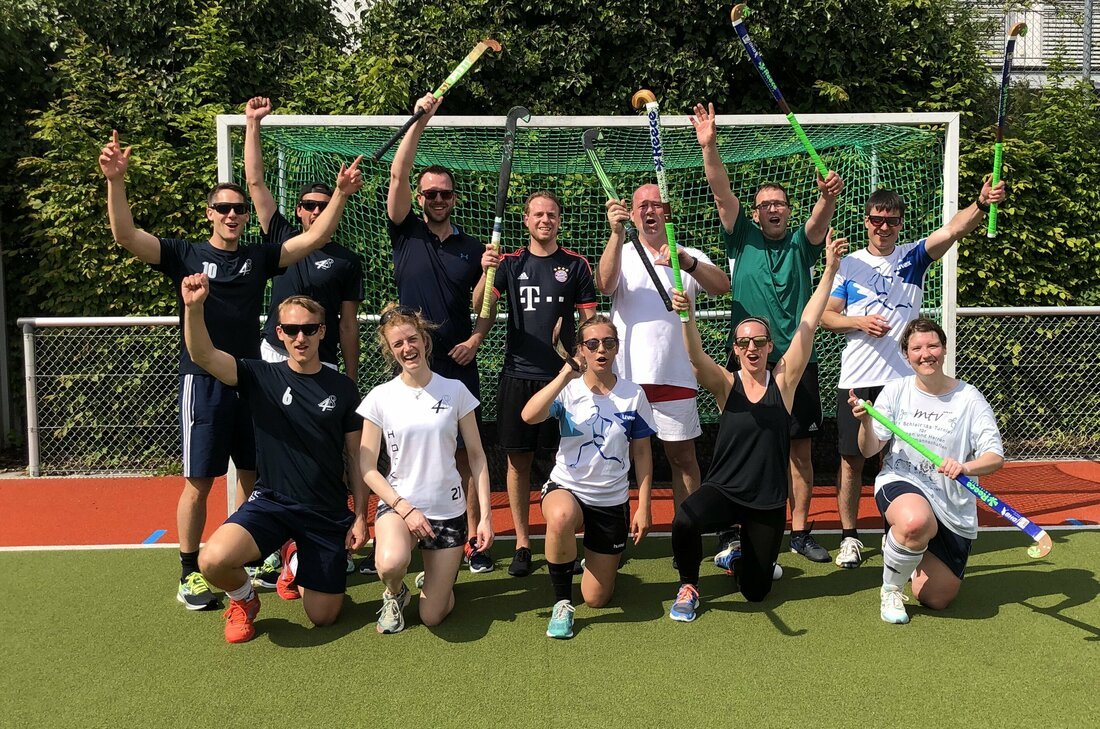 Hockey
Dynamic moves, exciting matches. In hockey at the Schwabacher TV 1848, no participant remained sweat-free.
After training together with the ball it became serious because in hockey only those who act best in the team can win.
Body and mind
That means yoga, meditation and functional training.
Beside the warrior and the cobra, the employees sweated a lot more than expected!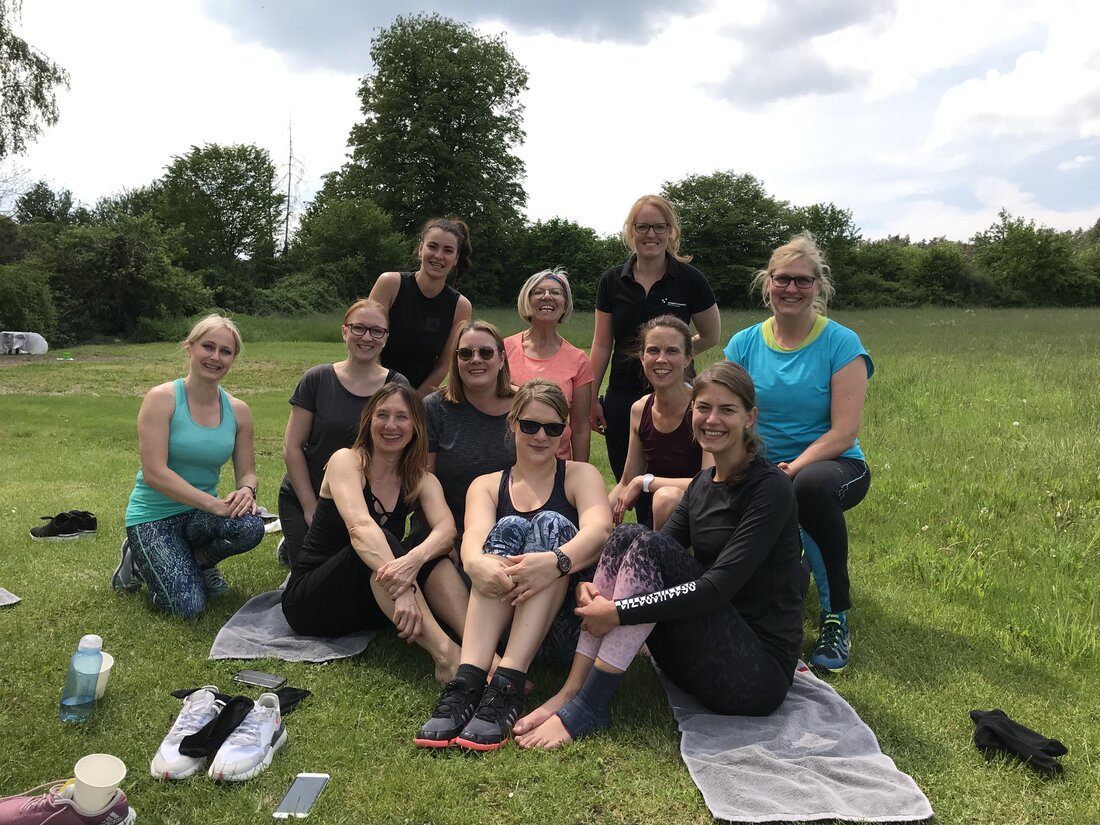 Kajak
The kayak tour started with a short briefing and some test manoeuvres on the water. One hour we paddled through idyllic meadows on Pegnitz and Rednitz. On several small rapids one or the other got a buck wave or went over board. Well-disposed and good-voiced we arrived in Vach near Fürth again.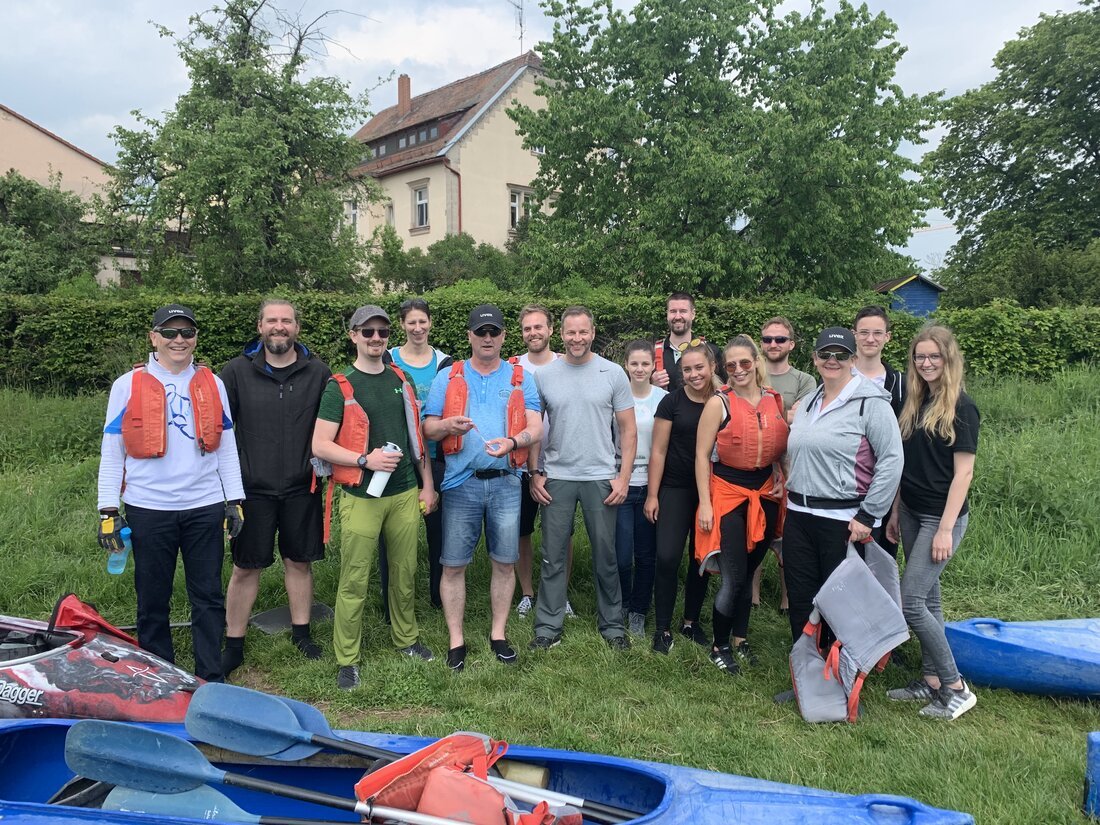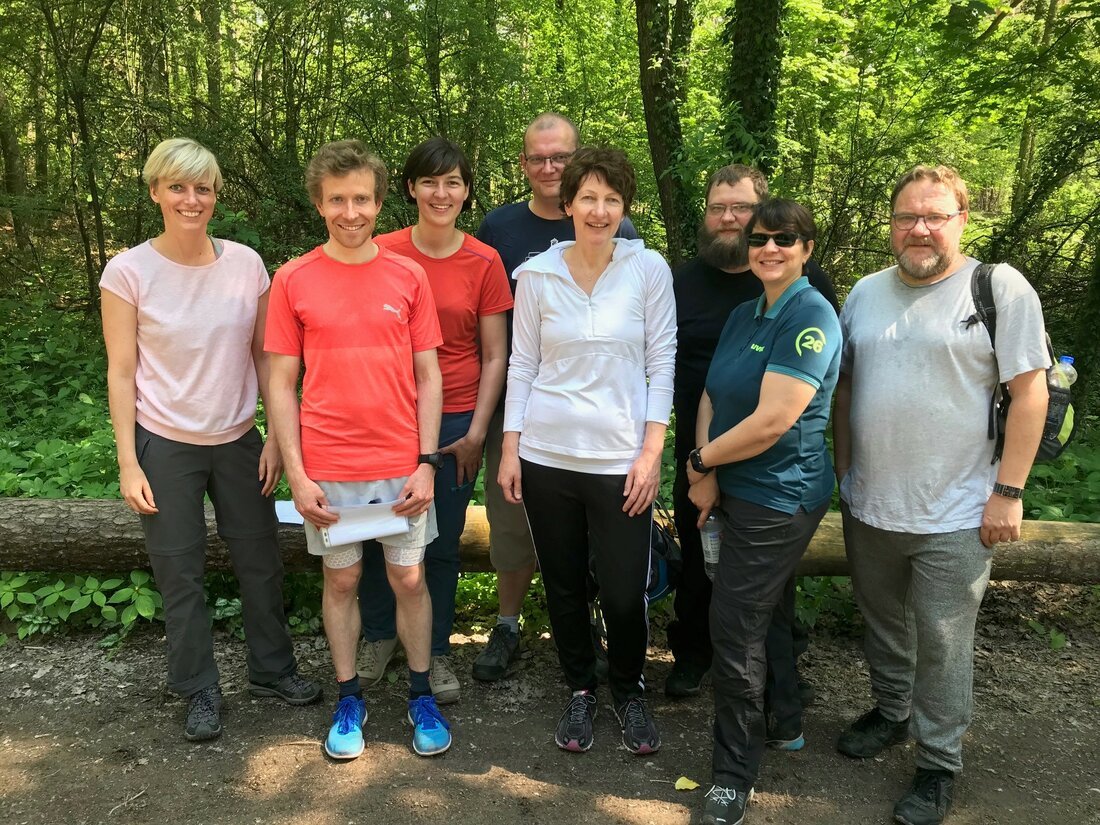 Orientierungslauf
Similar to a scavenger hunt, the participants were abandoned near Erlangen in the forest area and had to look for different stations.
The group, which was the first to mark all the places to be searched within 1.5 hours, won.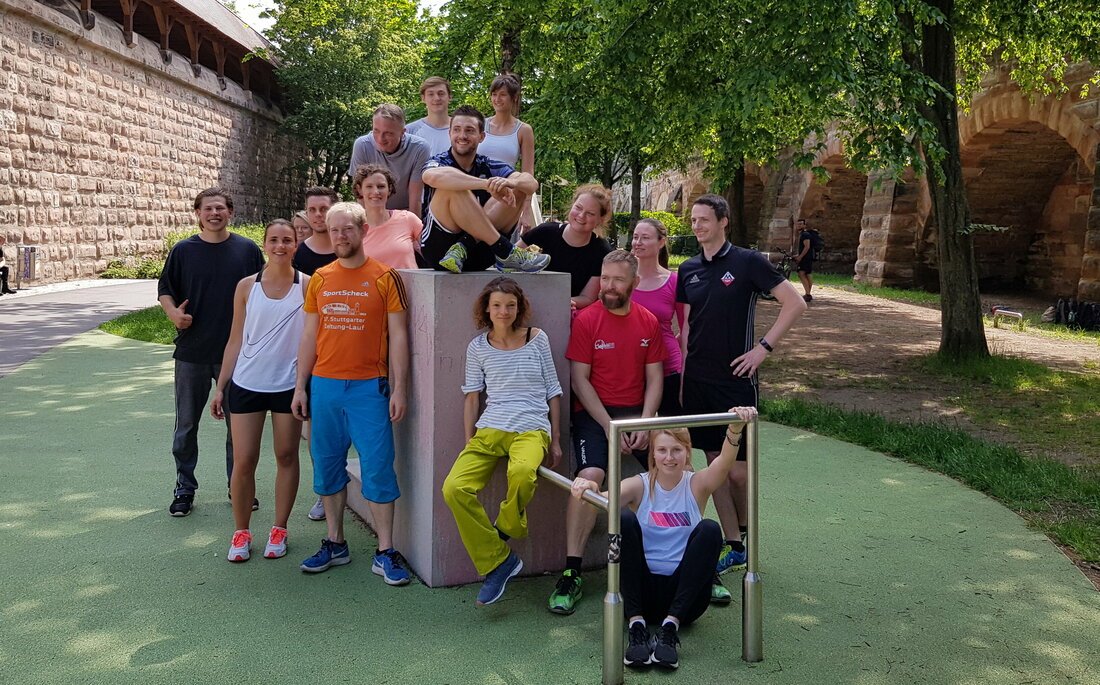 Parkour
Jumping from walls, rolling down, keep on running. What you only see in movies or on Youtube, our employees were allowed to test in Parkour Parc Westtorgraben at Nuremberg Castle.
Jumping up 2 meters from a standing position - not so easy!
SUP
After a short briefing by the Boardnerd-boys, we paddled along the Rednitz valley in dream weather and sunshine. First kneel down - find balance - get up and off we go.
Who now thinks the little paddling would not be exhausting - wrong thought. With a lot of muscle ache, some of our colleagues who went swimming and a tanned face we let the afternoon end in a relaxed atmosphere on the shore.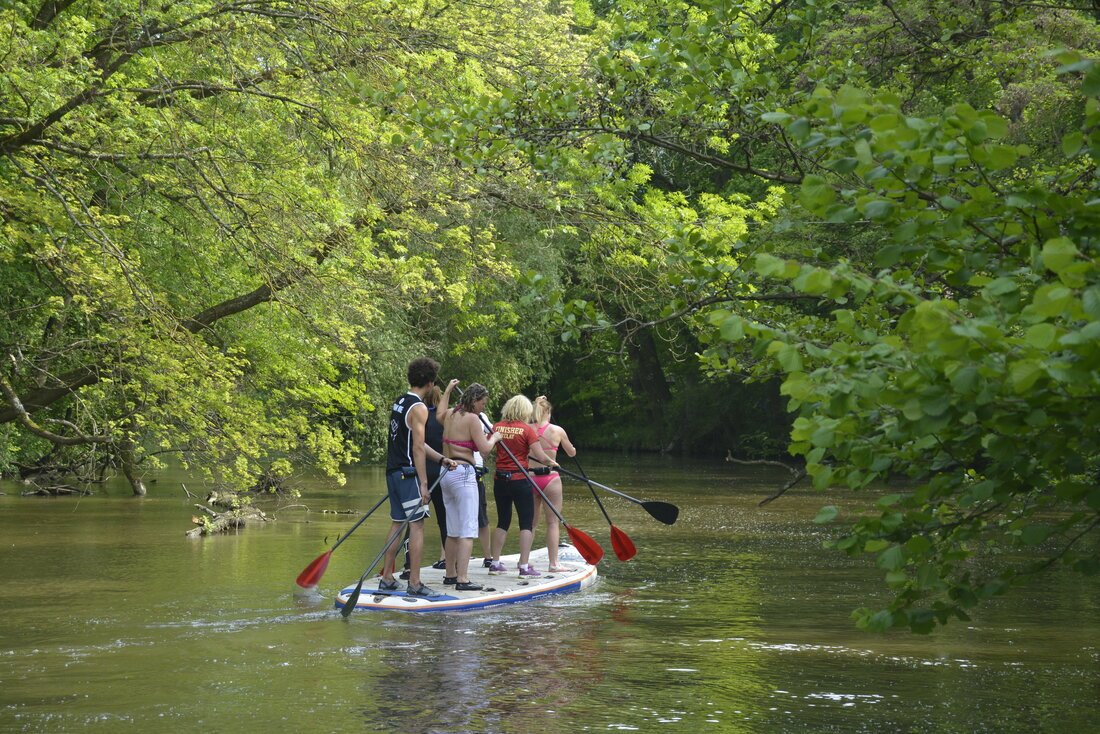 Clay pigeon shooting
When do you get to use a rifle? In Buttenheim there is this possibility.
Thanks to uvex hearing protection products, like earplugs or earmuffs, our employees had a lot of fun and realized for the first time how difficult it is to be a shooter.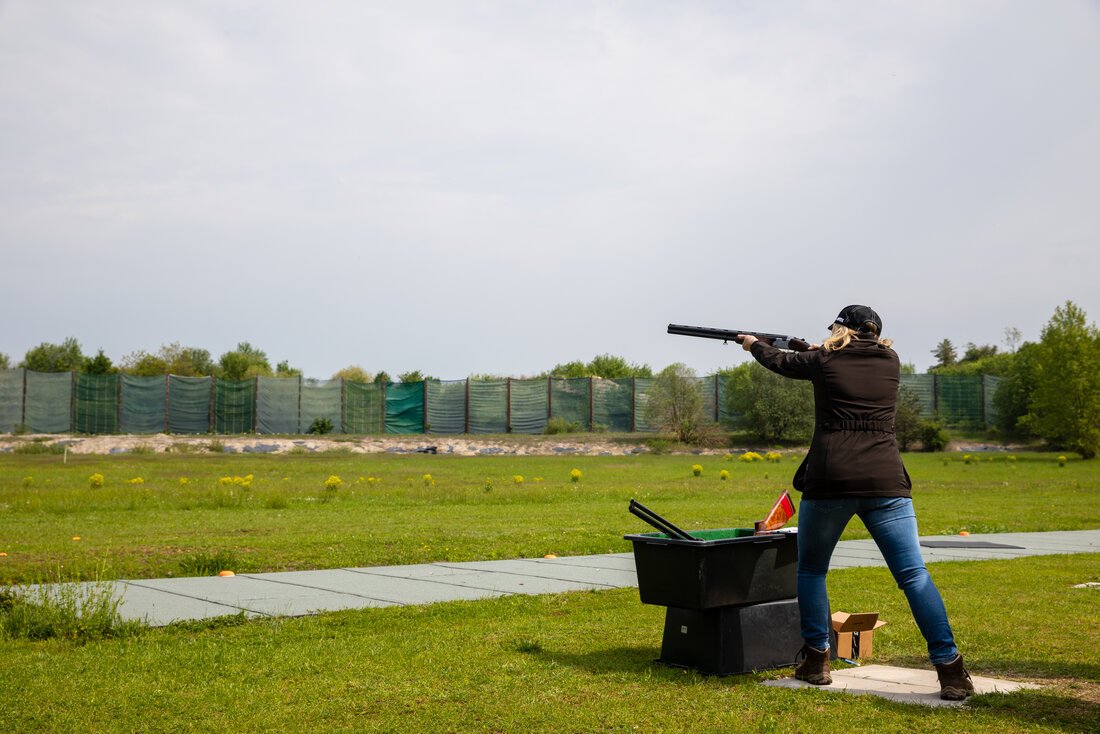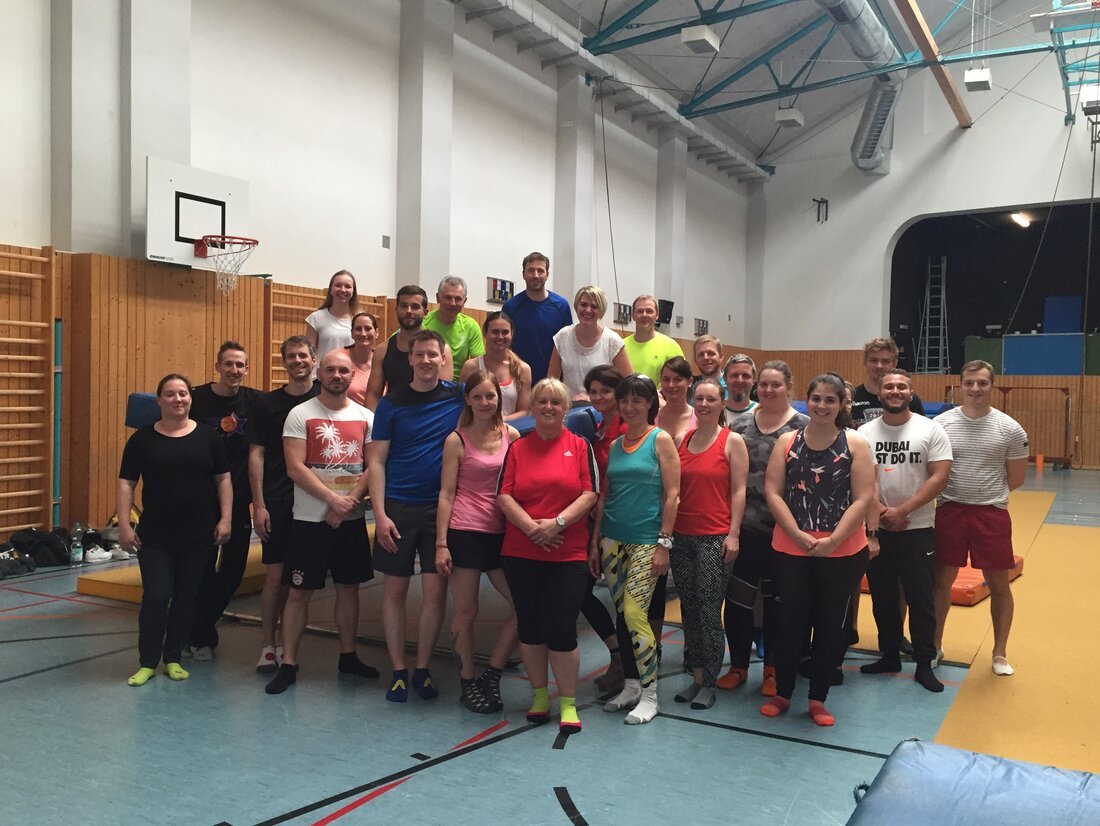 Trampoline
Salto forward, salto backward. At the trampoline you get to know the feeling for gravity anew. Jumps of several metres in height are not uncommon. If that was too risky for you, you could also venture on a leash into new heights.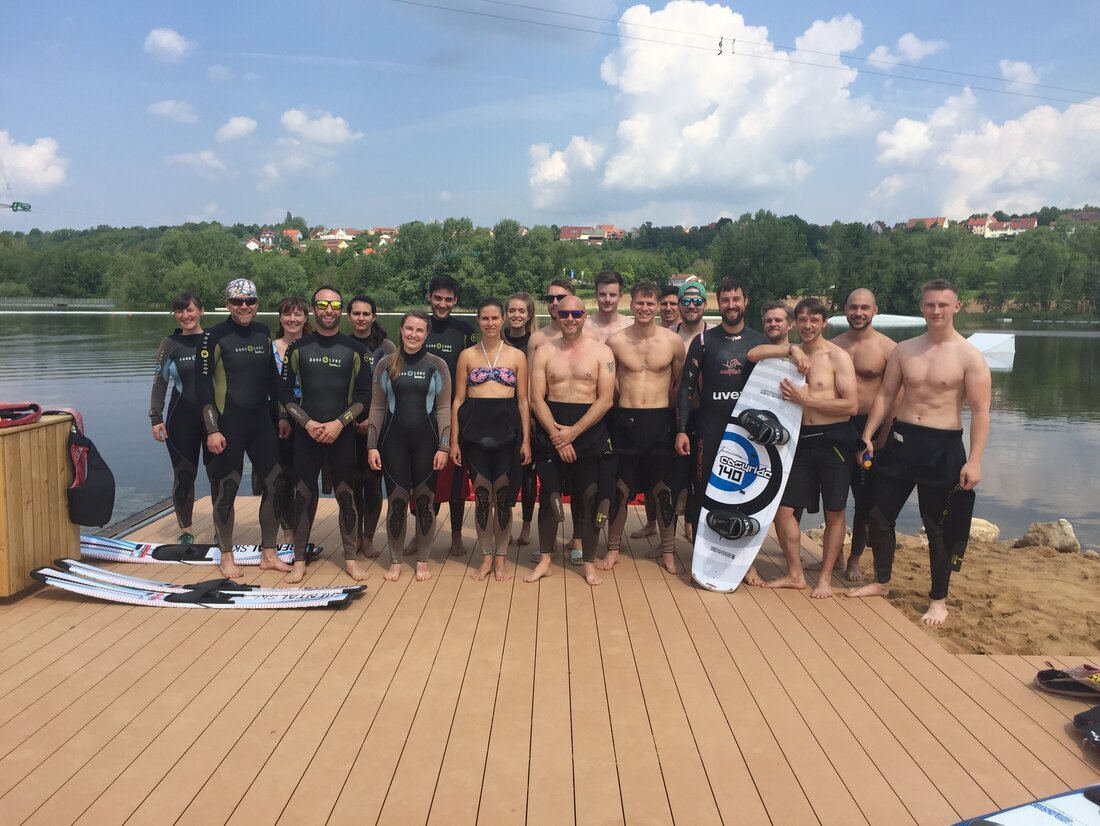 Wakeboard
The Brombach Lake in the Franconian Lake District has a new attraction: the wakeboard facility.
We didn't let ourselves get away with putting our employees in a few wetsuits and putting them on the boards.
Slackline
Keeping the balance is the meat and potatoes.
With a few tips from the coaches at the Hubert Schwarz Zentrum, everyone has succeeded.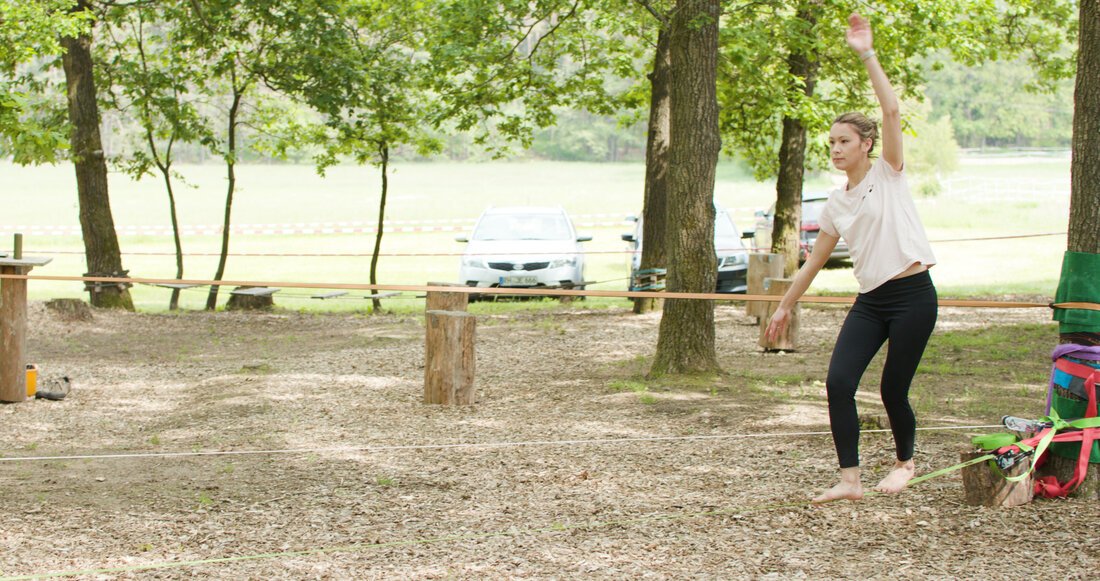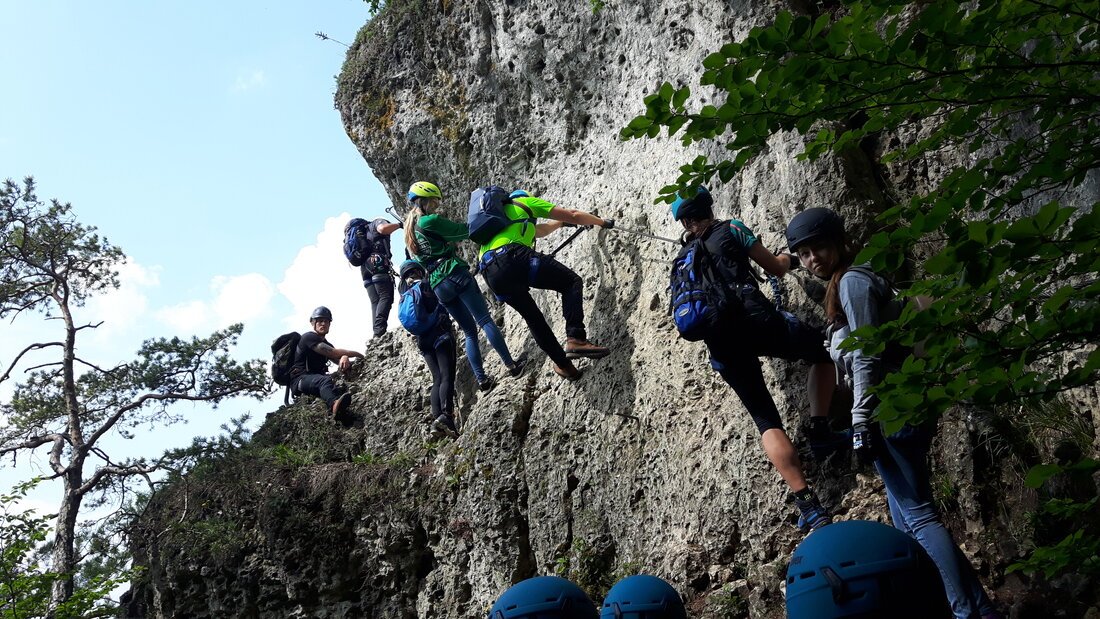 Via ferrata
Franconian Switzerland is known for its great climbing opportunities. Because some of our helmets also meet the standards of a climbing helmet and climbed inbetween the beautiful landscape.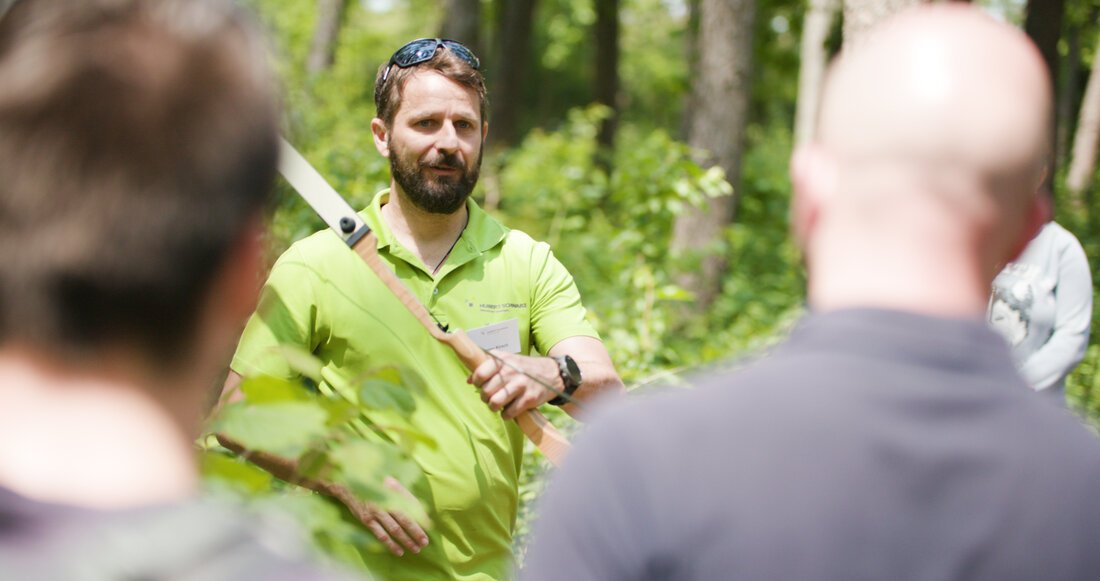 3D Archery
Full concentration and precision were required for archery in Abenberg. Although the targets moved less, keeping the balance between bow tension and breathing is far more than an easy game.
Hiking
The hike had a very special theme - herbs! What grows in our Franconian nature? What can you eat and what should you keep your hands off?
In addition to a little exercise, the participants were given a short crash course in herbal science.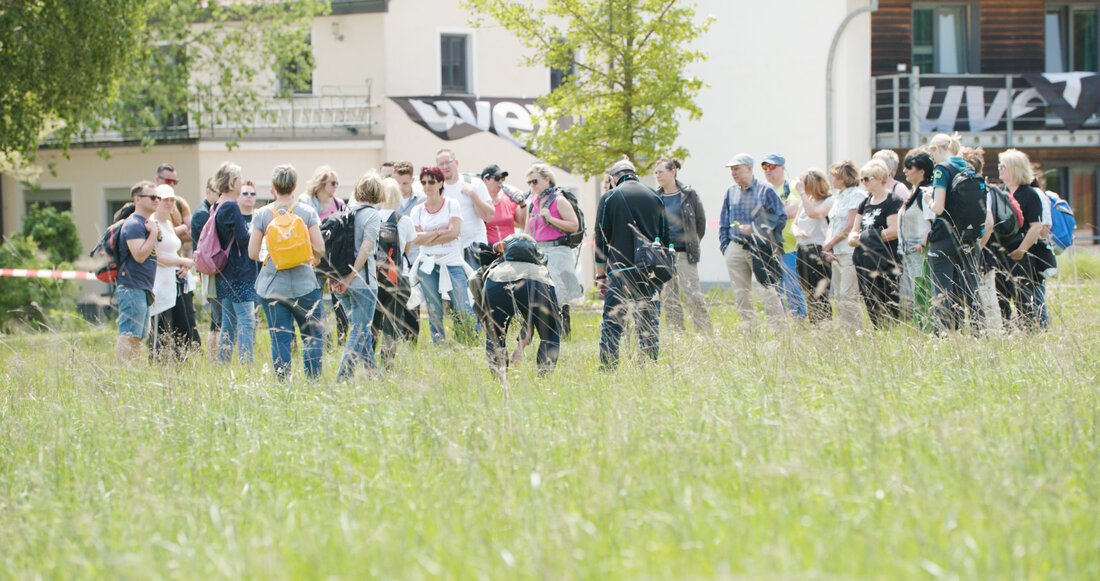 Horseriding
As a manufacturer of equestrian products, we naturally didn't miss the opportunity to test our products at the Reiterhof in Dinkelbühl. As in the everyday life of a horse owner, the horses were first cleaned and groomed before the common ride. In two groups we went out into nature for a big ride and a riding lesson in the stable.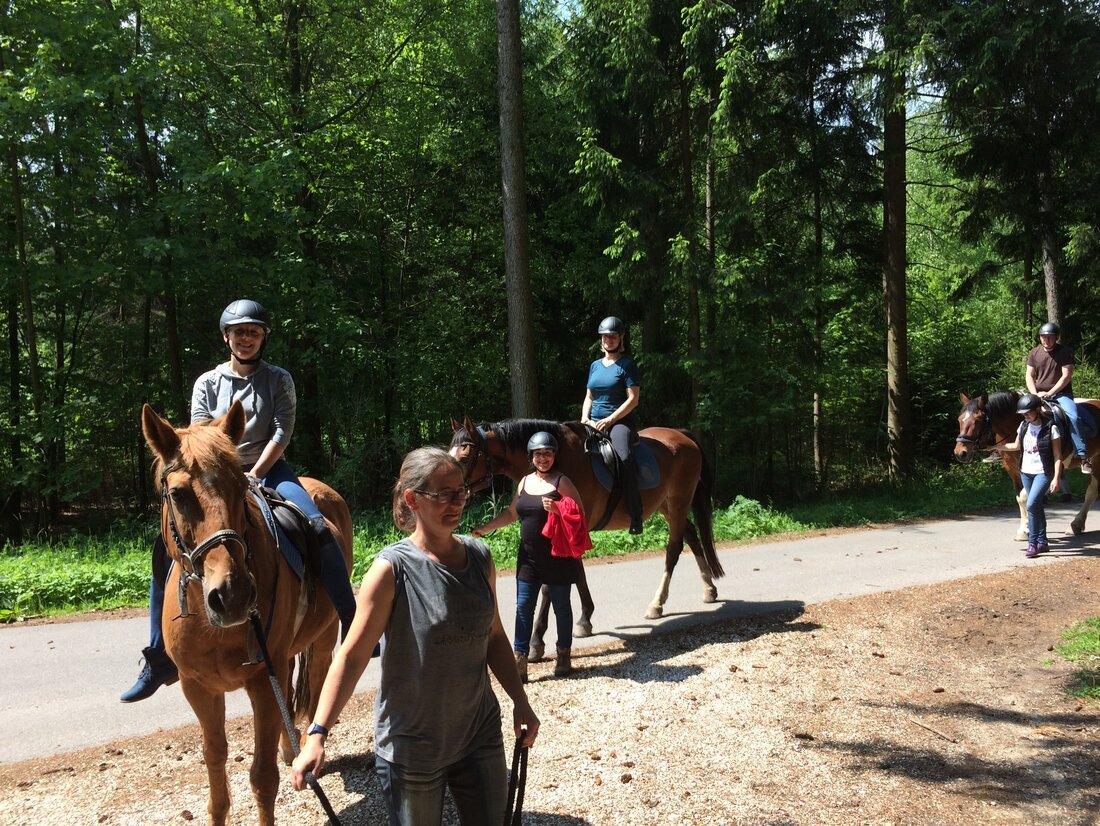 Freshly showered and with a ravenous appetite, the employees arrived at the party and were welcomed by our managing director Michael Winter. We were especially happy about the participants from our locations Lederdorn, Lüneburg or Ellefeld - some of them sat up to 8 hours in the bus.
As a special guest we welcomed triathlete Till Schramm. To finish an Ironman with a broken calf bone, although there were still a few kilometres ahead - only one can say that about himself.
After the grill buffet, DJ Frank Sonique provided with his beats for a full dance floor until midnight.
Many thanks to all participants for this wonderful day!