protecting people wherever we work
protecting people wherever we work. No matter where our employees workplace is located: From the reception area to the factory halls to product development - we all work together to protect people. We show pictures and tell stories from the world of work of the entire uvex group under #protectingpeople #whereverwework.


Julia Scheuerpflug, HR Business Administration Manager
"wherever we work" literally means "wherever we work". I took this "where" very seriously in September 2020, grabbed my notebook and traveled to Vienna for 2 months - taking my work with me, of course. I work in the HR department of the UVEX WINTER HOLDING GmbH & CO. KG as HR Administration Manager. Due to the progress of digitalization, it was possible for me to do my daily tasks from Vienna. To hold digital introductory meetings, to have access to the digital personnel files, to participate in meetings or to write work contracts was no problem despite the distance of exactly 512 km. At the end of the 2 months, a colleague said to me that she hadn't even noticed that I was " absent". I am very proud to contribute to #protectingpeople by being responsible, together with my colleagues, for recruiting #protectingpeople employees, giving them a good start with us and accompanying them as best as possible throughout their uvex working lives. For me, #protectingpeople means being present for the employees, no matter where I work from. I'm very grateful for this flexible work and I'm already excited to see where it will take me next.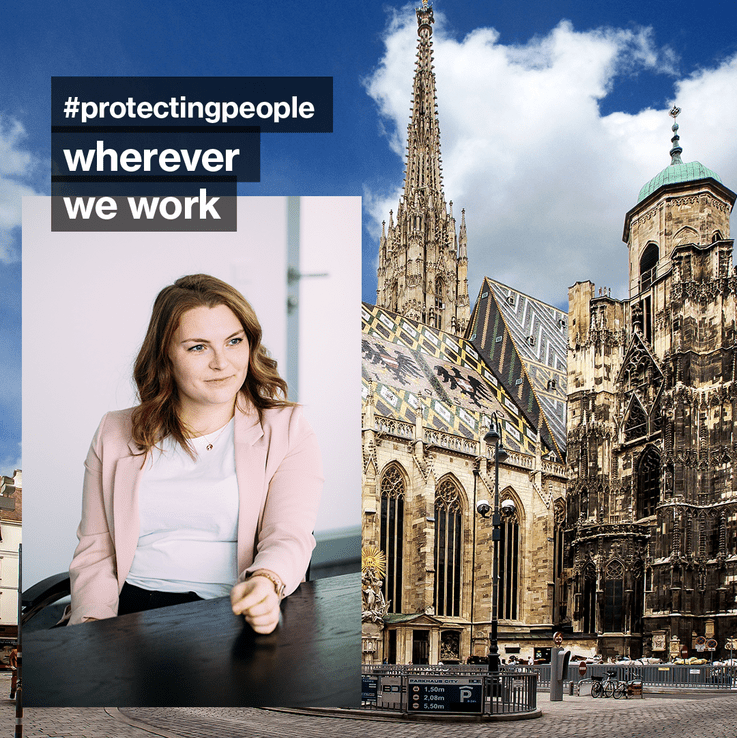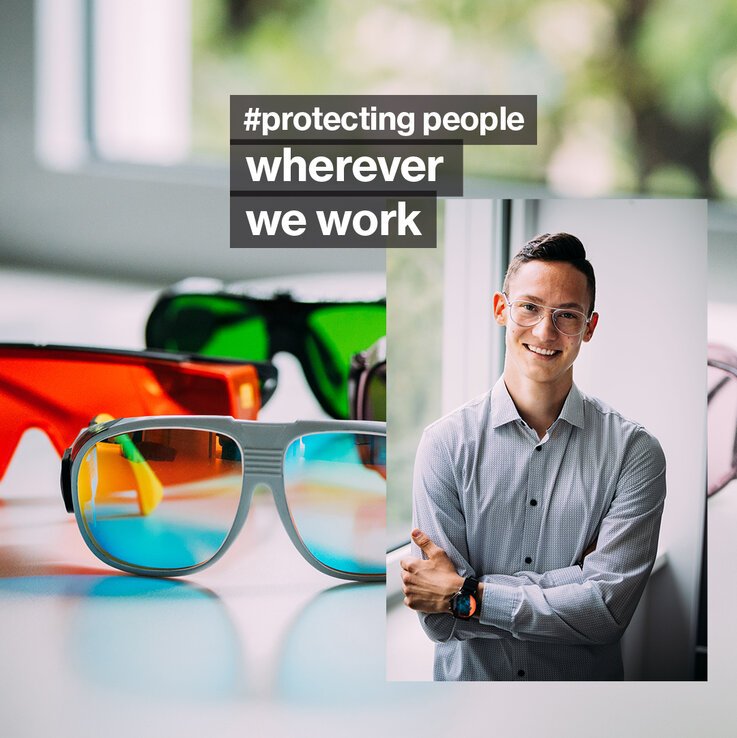 Colin Biburger, Order specialist, laservision
"After I completed my apprenticeship and was hired, I have now been working for Laservision in the special sales department in order processing for a half year. In addition to processing orders, from input and delivery to invoicing, I deal with various booking processes around the interfaces to Navision and SAP. The cool thing about my job: I am able to protect people. I help to protect laser users from laser radiation in a wide range of areas, such as industry, research, medicine or development. #protectingpeople has become more of an attitude to life at work, which is characterised by a great working atmosphere, nice team members and various activities on the part of the company for us employees. So I like to jump into our life-size mascot, the Bazi, for the team".
Ceren Orhan, Production Specialist Chemistry
"As a trainee chemical production specialist at uvexsafety, my main tasks include participating in various development projects, testing raw materials for their substance specifications and quality control of coatings. For me, protecting people means protecting people from all risks from head to toe. With my job I also make a decisive contribution to this. After all, in the end I am partly responsible for ensuring that products such as our protective glasses, pheos, are of the highest possible quality. At uvex, the good working conditions motivate me day after day - whether it's an optimal working time model or working together in our team!"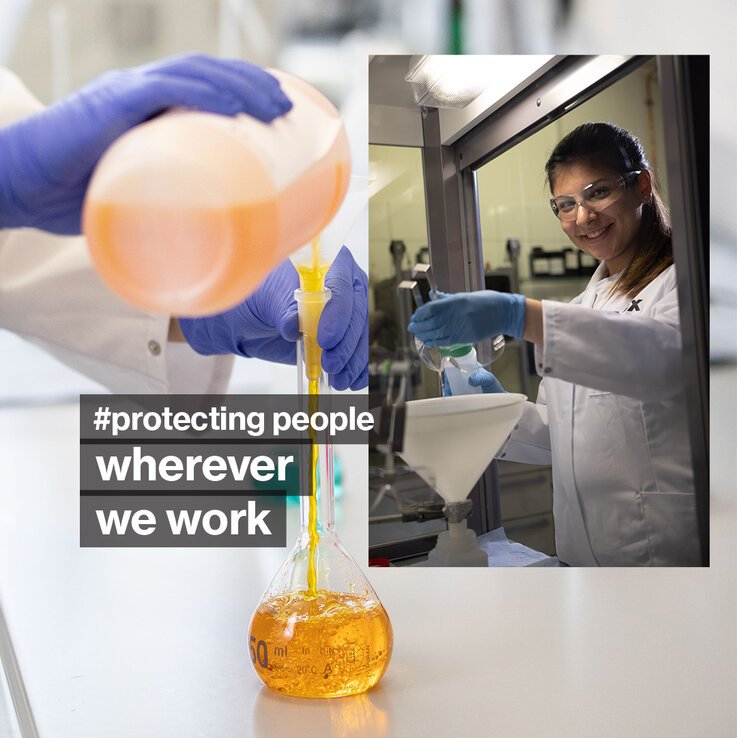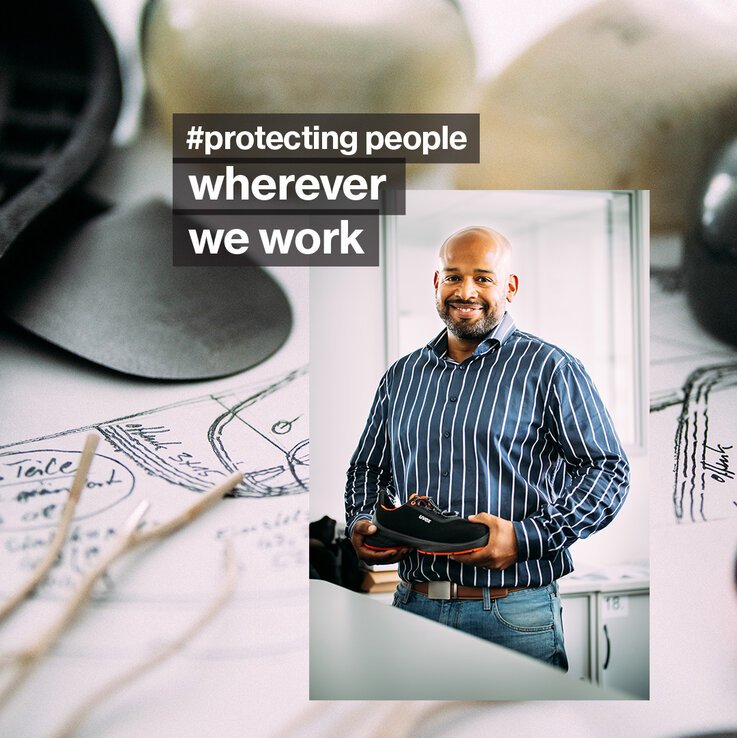 Mahatma Gueye, Head of Quality, SBU Footwear, uvex safety group
"In my role as Head of Quality in footwear at uvexsafety, I am primarily responsible for the quality, protective function and absence of harmful substances in our products. In addition, my mission at uvex includes adherence to our ethical, moral and sustainable principles along the entire supply chain. In doing so, it is important to do justice to the interests of everyone involved from the production to the application of our products. This starts with our colleagues in the factories in India, Vietnam or even Italy who are involved in production and ends with the supplier or end customer. The quality checks at suppliers and the handling of complaints are part of our daily business. #protectingpeople is an attitude that, in my opinion, is not just about our customers, but about keeping an eye on everyone I come into contact with, from suppliers to consumers. I am happy to be involved in creating products that are 100% safe, enjoyable to use and are made to high standards. We do not compromise on quality!"
Christian Eggart, Head of Training E-Learning/Sales Systems
"I am responsible for digital learning at Business Excellence in the uvex safety group. My responsibilities include the design and creation of digital learning content such as e-learnings and learning videos. Through my work, I contribute to uvex's efforts to protect people - whether through media for the correct use of PPE or ergonomics in the workplace. Empowering people means protecting people".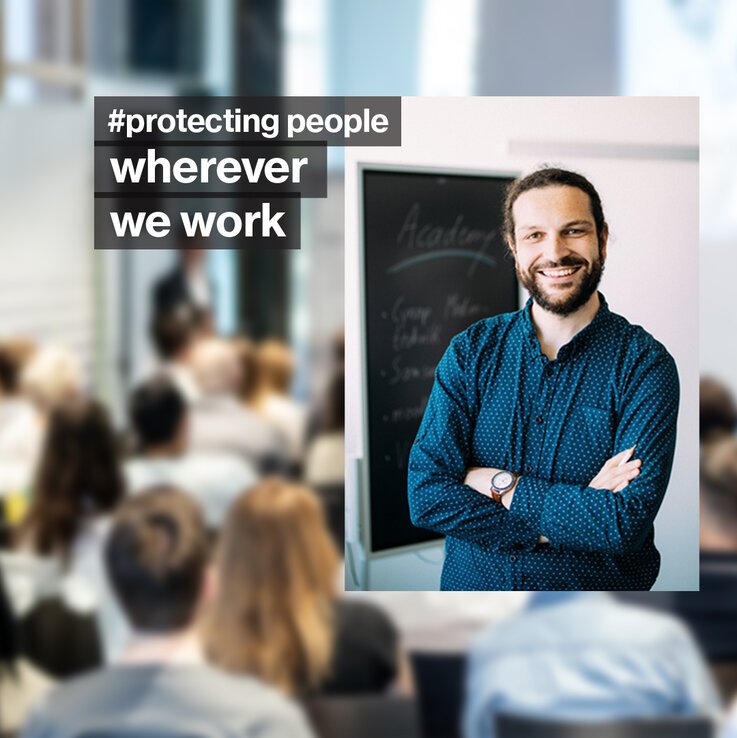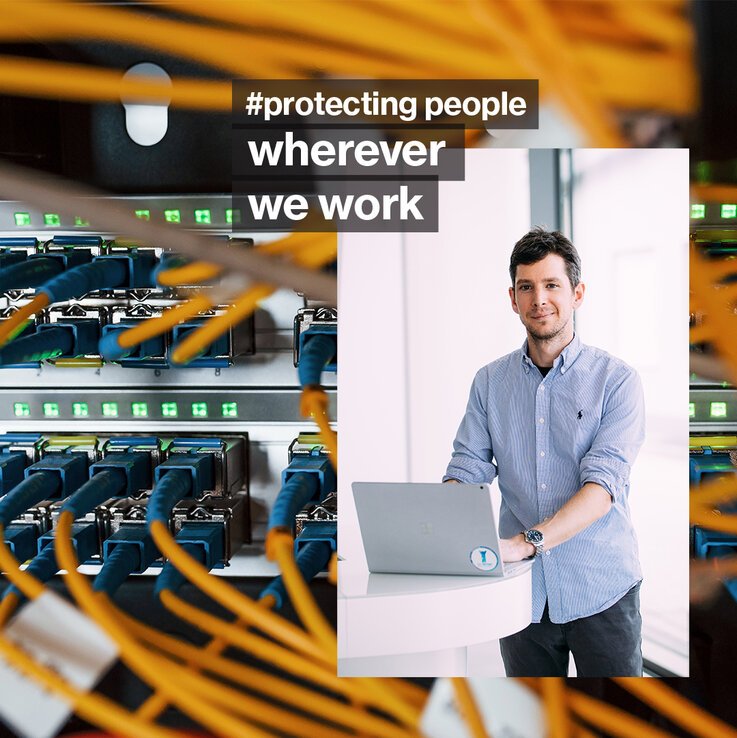 Michael Pyrsch, Head of Corporate Network & Security, uvex Winter Holding
"My colleagues and I are constantly working to protect the large amount of data on its way to the recipient. For me, Protecting people as an in-house service provider means supporting our users in their daily work in the best possible way and providing them with a secure, flexible and high-performance working environment".
Martina Stillger, interior designer, facility management at the uvex group
"My responsibilities include the supervision of construction measures and facility tasks in the whole uvex group. For example, I am responsible for the office space, surface area and relocation planning, but also for new construction, conversion and renovation measures in all phases of the work.
As a certified interior designer, I also accompany and support furniture consulting and planning. The majority of projects are realized at the headquarters in Fürth. However, I also work on projects at our uvex locations in Germany and abroad. Of course, protecting people also applies to construction projects, to the working environment and in detail to every single piece of furniture.
Only those who meet the highest standards of quality, design and ergonomics can provide optimum protection for people at their workplace".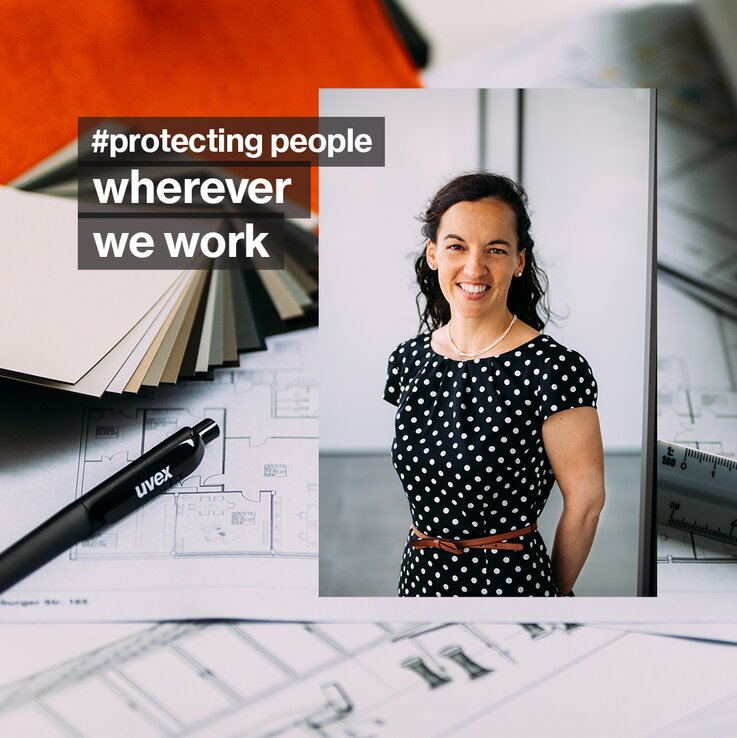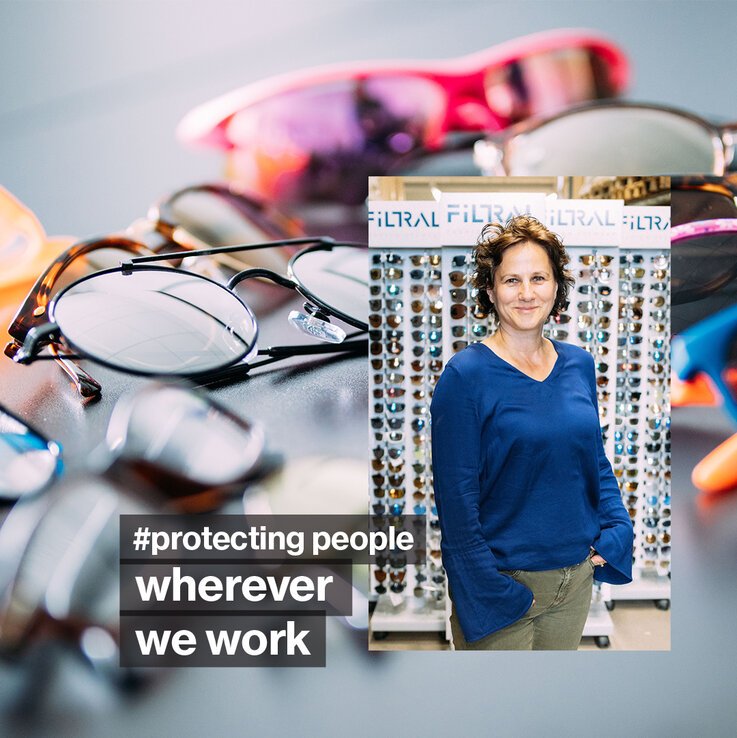 Claudia Hoeckle, Key Account Manager International Sales at Filtral
"I supervise a wide range of retail customers and distributors worldwide. In addition to my classic sales activities, my job is to develop customer-specific sales concepts in cooperation with the specialist departments - from packaging to eyewear selection and display. A hypermarket in Luxembourg has different requirements than a gas station in Germany or an Aldi in France.
protecting people also applies to Filtral, of course, because every pair of sunglasses is manufactured according to strict PSA specifications and naturally offers excellent UV protection, just as uvex intends. At Filtral, we are also increasingly focusing on sustainability, for example by using bio-based plastic for the frame of our sunglasses to protect not only people but also the environment."
Jens Maile, Occupational Health Sales Force, uvex safety group
"I work in the field service for the uvex safety group and I'm responsible for the marketing of individual PPE. From the sportstyle RX and prescription safety/desktop glasses to fitted hearing protection and orthopaedic insoles for safety shoes - I provide competent and individual advice on these products to our customers.
I think, protecting people concerns all of us! Regularly I get to know new people with different needs.
With our products, I can help and support them in their daily work and therefore make their professional life safer."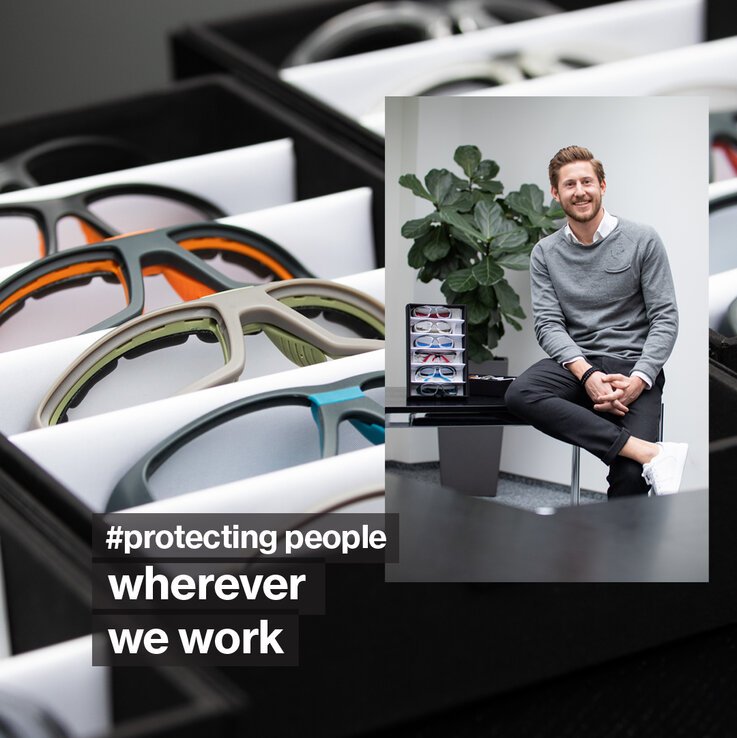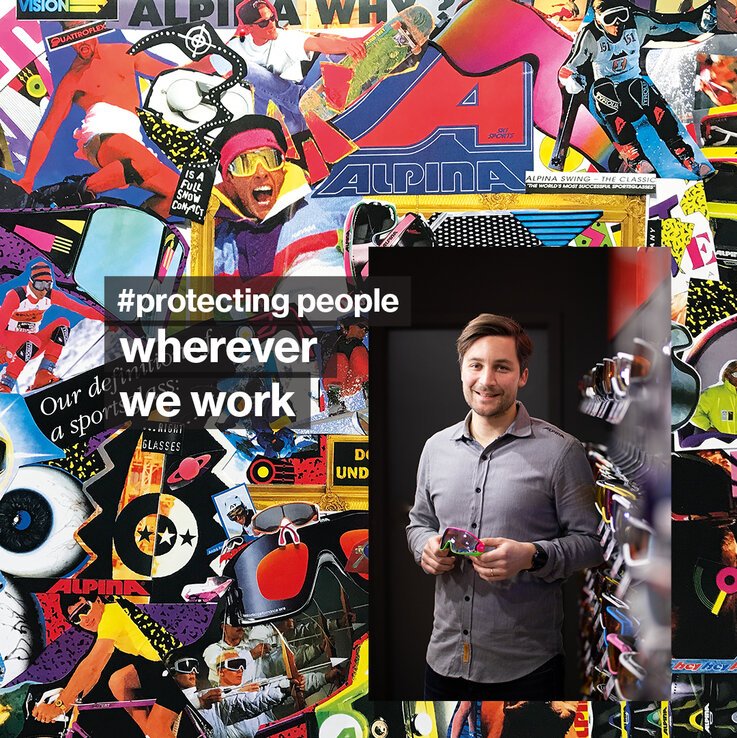 Moritz Maier, Head of Marketing at ALPINA
"protecting people is the fundament and base for all our activities. Especially when it comes to the development of products. ALPINA takes one step further.
According to our mission statement made to inspire, protecting products become lifestyle products."